Chimney Sweep Huntsville Alabama
Call us today:
205-267-4920
Sootaway Chimney Sweep Huntsville Alabama Expert Chimney and Fireplace Services
What You Can Expect When You Work With Sootaway Chimney Sweep Huntsville Alabama
Our top priority as your chimney sweep Huntsville, is providing industry leading service as chimney sweep and fireplace professionals. Our goal is building loyalty and trust with those we serve. That's why our first class teams are considerate and careful, making sure to protect your property and belongings. We want to accommodate you, and we'll make sure to be in communication with you about any last minute schedule changes. The sharpest individuals comprise our teams: those who exemplify what it means to be a true chimney sweep and fireplace professional.
Benefits of Hiring Professional Chimney Sweeps in Huntsville
If you are considering hiring a chimney sweep to clean your chimney, you want to know the benefits you will receive when you hire one. The truth is, benefits differ by the type of property. If you would like to know the specific benefits you will experience with hiring a chimney sweep, please contact us at (256) 251-6256. Our team members would love to discuss what you will enjoy about our services and give you a quote. Now, let's discuss the three main benefits we guarantee with our service from Sootaway Chimney Sweep Huntsville Alabama.
Protect Your Home
The most important benefit of hiring a professional chimney sweep is providing its customers with safety, when using their fireplace. This is one of the primary reasons homeowners prefer to hire a chimney sweep rather than cleaning their chimney themselves. They will make any necessary chimney repairs, and they will make sure your chimney functions properly. Additionally, they will clean out any flammable, sooty buildup to prevent your chimney from catching on fire. This is, as you likely know, very important as a chimney fire can lead to severe damage.
When you hire a chimney sweep to inspect your home annually, the primary purpose is to ensure there is no soot or creosote buildup present. The Allstar Chimney Academy recommends getting your chimney get cleaned once just a small fraction of an inch of buildup is present. If your chimney has more buildup, it is at risk for catching on fire. When you hire a chimney sweep, they will use a special camera to film the interior of your chimney. While doing this, they will be looking for any signs of buildup that could lead to a fire. If Sootaway Chimney Sweep Huntsville Alabama does spot a sooty buildup, they will remove it so you can safely use your fireplace.
Complete Chimney Services
Give us a call, at 256-487-7077, and allow us to take care of your chimney and Fireplace issues. If you want to know you and your family are safe when using your fireplace and chimney, it is highly encouraged to contact a professional chimney sweep company.
Looking for a Huntsville chimney sweep team near you?  Please contact us or call 256-487-7077, with any other questions. We would love to help you get your chimney in perfect condition so you can use your fireplace with peace of mind.
Our team brings great experience and guarantees you will be satisfied with our work. We look forward to hearing from you and giving you a 5-star experience!
How We Can Help:
SootAway offers all the essential services that will keep your fireplace going. Here are some of our 5-star services: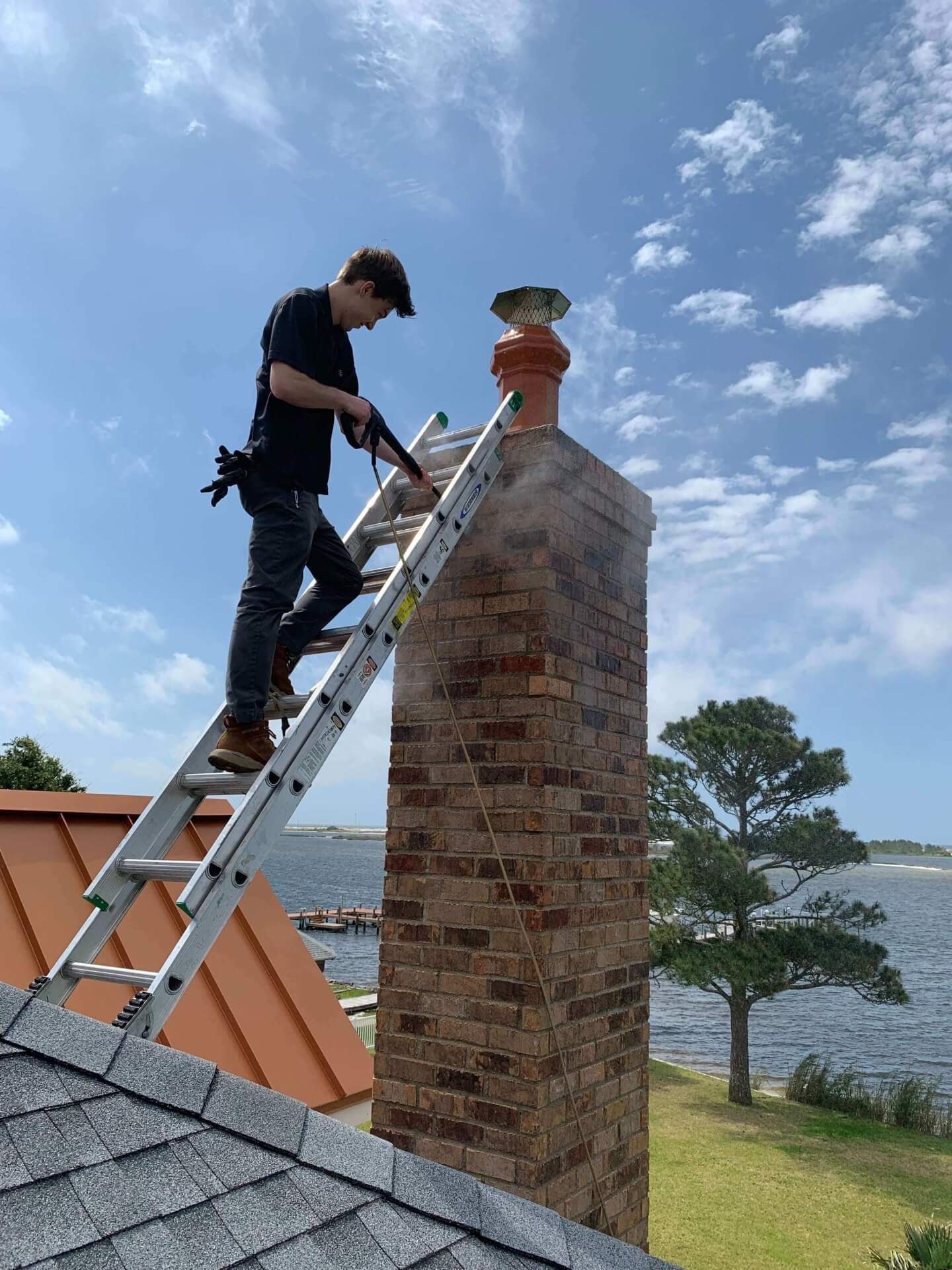 Hours of Operation
| | | |
| --- | --- | --- |
| Day | Open | Close |
| Monday | 7:00 AM | 6:30 PM |
| Tuesday | 7:00 AM | 6:30 PM |
| Wednesday | 7:00 AM | 6:30 PM |
| Thursday | 7:00 AM | 6:30 PM |
| Friday | 7:00 AM | 6:30 PM |
| Saturday | 7:00 AM | 6:30 PM |
| Sunday | Closed | Closed |
Save Yourself Time
For a professional, cleaning a normal chimney can take 2-3 hours to clean, while exceptionally impaired chimney's can take even longer. The equipment used by professional chimney sweeps helps them to save time and effort when cleaning. Trying to do the job without having the training or equipment could cost you a lot of hardship and time. Let SootAway properly take care of your messy chimney in a few hours.
Breathe Better Air
Any blockage in your chimney will affect the air quality in your home or building. When there is no place for the smoke from the fire to escape, it will fill the home quickly. As you know, this is very unhealthy to breathe in. Sooty buildups are not the only blockages that can cause this to happen. Birds' nests, leaves, and critters can also cause a blockage for the smoke. Hiring a chimney sweep to inspect your chimney will prevent this issue from happening and will ensure the smoke can escape your chimney properly.
"He was careful to clean up after himself and I'm very impressed with this company. Here's some pictures they took on the roof
-Hunter Stewart
"Excellent Excellent job. So honest in every way. We are very happy and satisfied with their wor. And it was a lot
-Barbara McMains