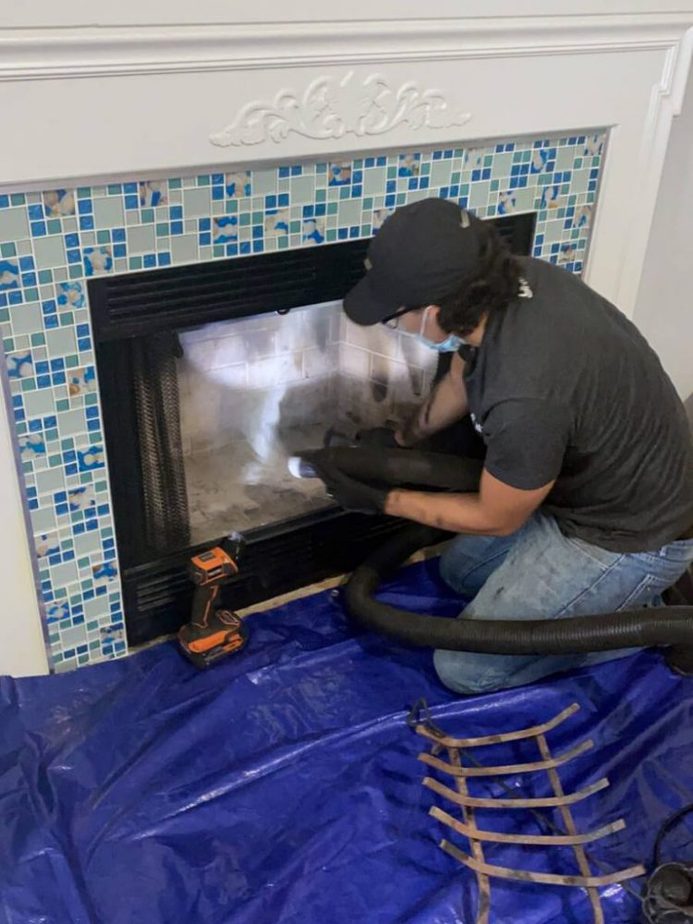 Sootaway's Expert Chimney and Fireplace Services
Chimney Sweep Isle of Hope, Georgia
Sootaway chimney sweep Isle of Hope knows that fireplaces and chimneys are very important to maintain. As one of the riskiest areas of the home, when not properly maintained, fireplaces can become very dangerous. With that being said, if you own a fireplace, you should consider getting your chimney cleaned by a professional chimney sweep team. Professional chimney sweeps can help minimize the risks of owning a fireplace and ensure your chimney is properly maintained. The Sootaway team consists of experienced chimney sweeps serving Isle of Hope, Georgia. We help our clients feel secure with their fireplace so they can enjoy it anytime they want. Before discussing the benefits of our services, let's cover what chimney sweeps do.
What is a Chimney Sweep?
A chimney sweep is a professional chimney technician who ensures homes are safe to use in their fireplaces. Since the 1700s, fireplace owners have known cleaning their chimneys is a risky task. Homeowners would seek the help of young boys who would climb up their chimney to clean each brick and tile in the interior. Thankfully, commercial-grade equipment has taken that job away from children. Despite people knowing for over 300 years that chimney cleaning is very important, many people neglect to do this task, or they attempt to do it themselves.
Chimney sweeps are highly trained workers who have the proper equipment to clean chimneys thoroughly. Most homeowners do not have the necessary tools to get up and inside the chimney. To reach the entire chimney a pro needs the proper tools. A professional chimney sweep will use extendable brushes, specialized cleaning agents, and even cameras to ensure your chimney is completely clean. With that being said, hiring professional chimney sweep Isle of Hope, such as those at Sootaway, has a multitude of benefits.
Benefits of Hiring Professional Chimney Sweep Isle of Hope
If you are considering hiring a chimney sweep to clean your chimney, you want to know the benefits you will receive when you hire one. The truth is, benefits differ by the type of property. If you would like to know the specific benefits you will experience with hiring a chimney sweep, please contact us. Our team members would love to discuss what you will enjoy about our services and give you a quote. For now, let's discuss the three main benefits we guarantee with our services.
Protect Your Home
The most important benefit of hiring a professional chimney sweep is safety. One of the primary functions of a chimney sweep is providing its customers with safety when using their fireplace. This is one of the primary reasons homeowners prefer to hire a chimney sweep rather than cleaning their chimney themselves. They will make any necessary chimney repairs, and they will make sure your chimney functions properly. Additionally, they will clean out any flammable, sooty buildup to prevent your chimney from catching on fire. This is, as you likely know, very important as a chimney fire can lead to severe damage.
When you hire a chimney sweep to inspect your home annually, the primary purpose is to ensure there is no soot or creosote buildup present. We recommend you get your chimney cleaned when even just 1/8 of an inch of buildup is present. If your chimney has any thicker of a buildup, it is at risk for catching on fire. When you hire a chimney sweep, they will use a special camera to film the interior of your chimney. While doing this, they will be looking for any signs of buildup that could lead to a fire. If they do spot a sooty buildup, they will remove it so you can safely use your fireplace.
Breathe Better Air
Any blockage in your chimney will affect the air quality in your home or building. When there is no place for the smoke from the fire to escape, it will fill the home quickly. As you know, this is very unhealthy to breathe in. Sooty buildups are not the only blockages that can cause this to happen. Birds' nests, leaves, and critters can also cause a blockage for the smoke. Hiring a chimney sweep to inspect your chimney will prevent this issue from happening and will ensure the smoke can escape your chimney properly.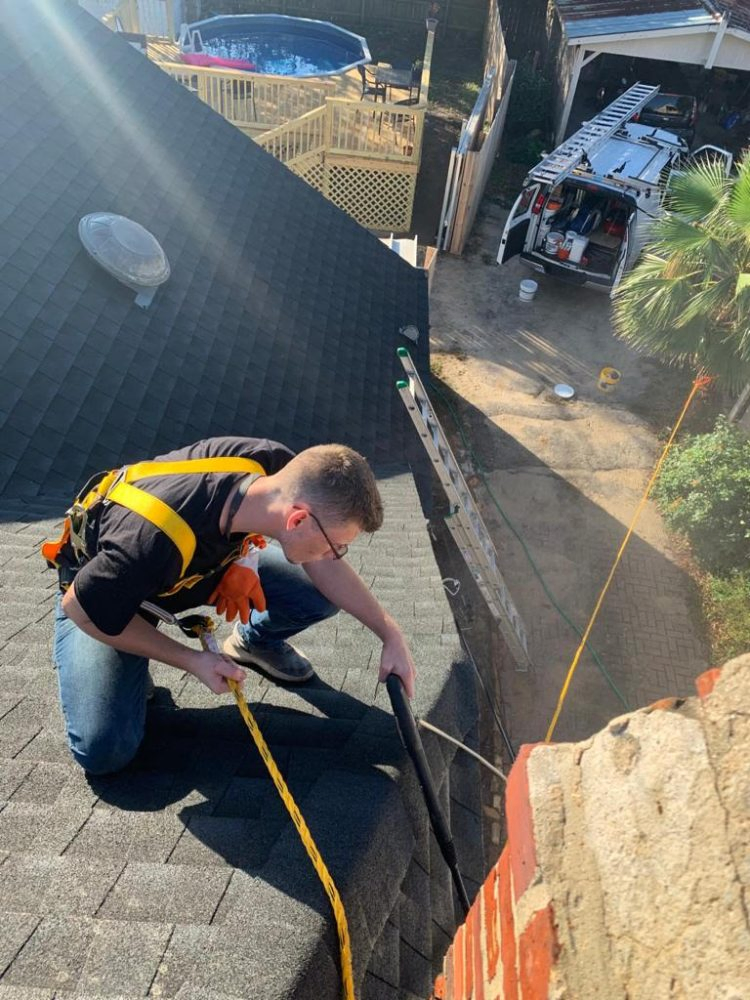 Our Services
Sootaway provides professional chimney and fireplace services, from the best technicians around.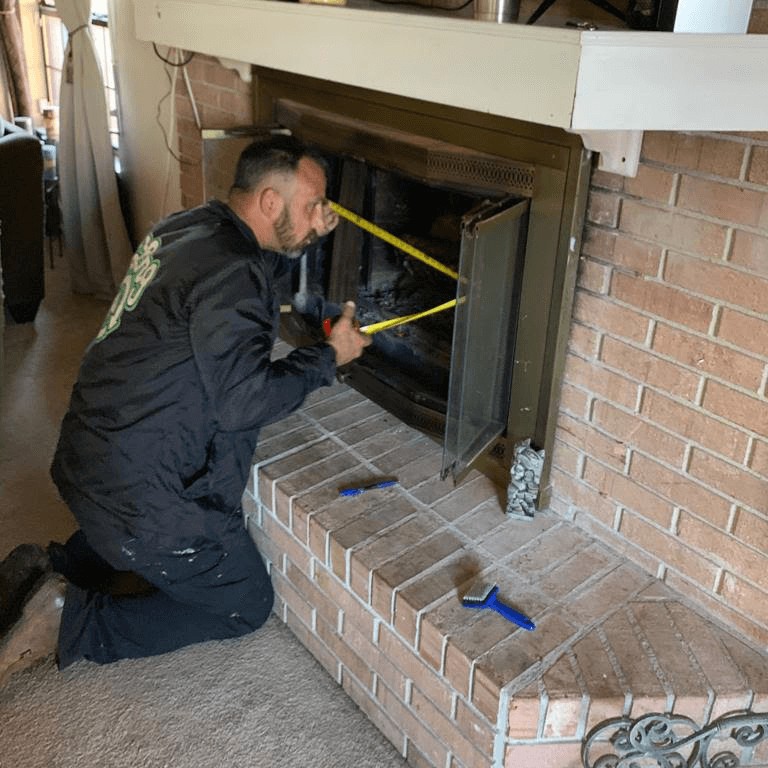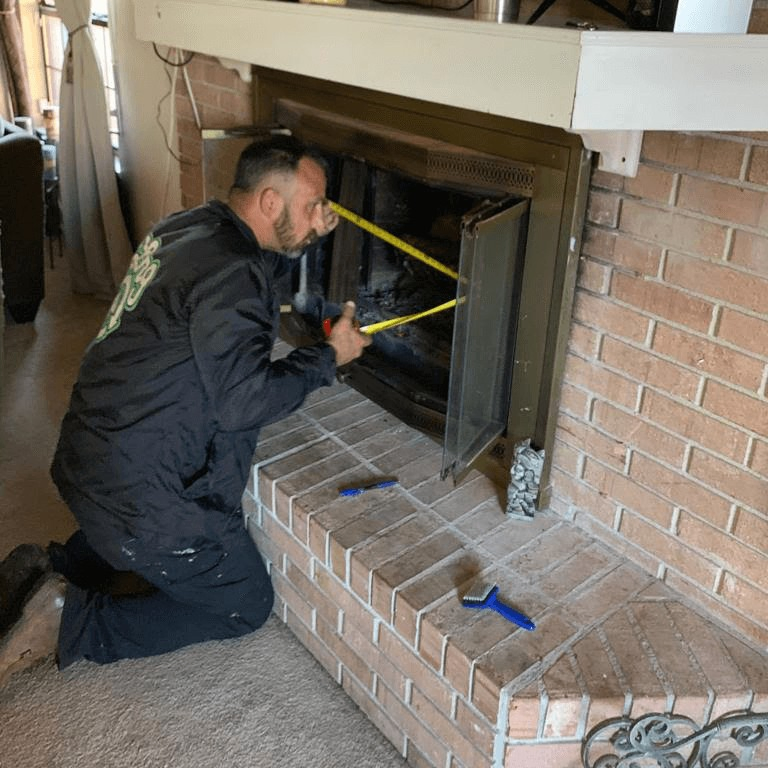 21-Point Safety Inspections
Providing a full Bill of Health for your chimney and fireplace system.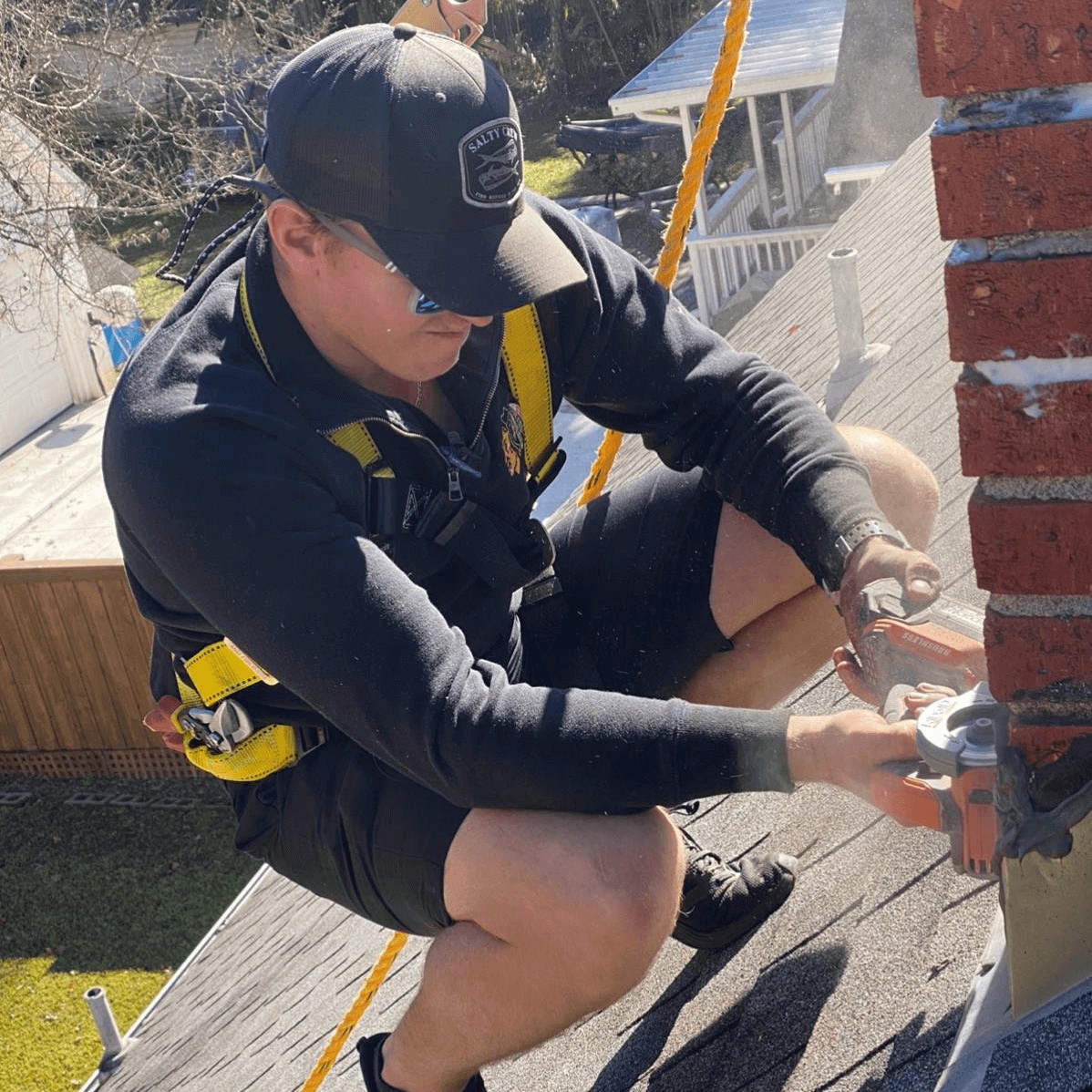 Chimney And Fireplace Repairs
No project is too big for our technicians. Sootaway expert chimney repair.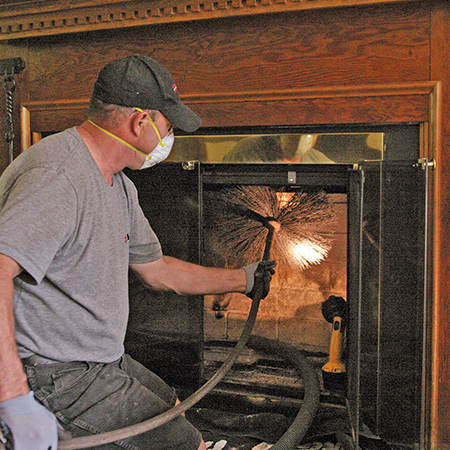 Professional Chimney Sweeps
Keeping your chimney clean, safe, and protected from hazards.
Tornado Damage?
Don't worry! We have you covered!
After a tornado has passed, you may not be sure whether the stack needs to be fixed or not. In the event that you haven't had a chimney inspection in about a year or more, having an assessment after a tornado or extreme winds is a smart thought; and it will give you true peace of mind knowing your chimney is safe to burn!
Chimney Flue Operational Tips
A chimney with a flue is a significant advantage for any home. It takes into consideration the comfortable solace of a warm hearth and fire for most homes. If you are a homeowner with a flue, count yourself lucky for good reasons. The delight of a working chimney with loved ones is best in class.
WHAT'S A CHIMNEY FLUE?
Think about a chimney flue as an exhaust pipe that transports smoke and ignition items securely outside. Fumes drafts up your smokestack since it is warm and light, completing it up and off your fireplace utilizing the head of the stack impact.
DRAFTING
Although many people do not understand it, the air climbing your smokestack works under similar arrangement of physical standards as water streaming in a hose or line. At the point when a chimney smokestack is full of hot air, it gets air through the firebox. This pulling impact is called draft and it compares to the measure of weight in a water hose – the main contrast is that the pneumatic force is negative and the water pressure is positive (consider utilizing a straw to drink with rather than to blow bubbles). Hence, stacks are negative weight frameworks.
Expanding the draft in your chimney resembles opening the fixture more extensive on the hose. The easiest method to expand the draft in your smokestack is to burn the fire hotter – more hot air is lighter, so it has more force. Another approach to get more draft is to expand the stature of your fireplace. Given a similar measure of weight, a bigger line can convey a more prominent volume of water than a littler one. The equivalent is valid for stacks – with a similar measure of draft (pressure) a bigger vent will deplete more smoke from your chimney than a littler one.
Poor flow in a chimney can result from: exorbitant creosote stores, shut or stopped dampers, improper construction, basic harm or even a grimy smokestack top. Indeed, having a stopped-up stack top toward the finish of your fireplace resembles having a shut spout toward the finish of a hose – forestalling wind current through the smokestack.
FLUE LINERS
Your flue liner (situated inside your smokestack) is the vertical passageway that moves the waste gas to the outside. Vent liners additionally increment a smokestack's productivity and execution. A suitably measured vent ought to be one inch wide for each 10 square crawls of chimney opening. This 10:1 proportion empowers air to go at the ideal speed through the pipe.
In the event that the flue is too large for the chimney, an excess of air will leave the smokestack and you will lose heat. If the vent is excessively little, at that point air cannot leave the smokestack. Without the drawing of ignition air into the firebox, lighting a fire in ovens or chimneys would be unimaginable. Your home, stack, and chimney smokestack liner cooperate to give important ignition air to your chimney while venting the side-effect exhaust out of mischief's way.
Our committed group is here to assist you with your chimney and flue. To guarantee your stack vent works appropriately, you need your yearly chimney sweep and inspection, and a quality pipe liner. SootAway offers dependable, reasonable smokestack administrations. To become familiar with our stack administrations or to plan your arrangement, contact SootAway today HERE.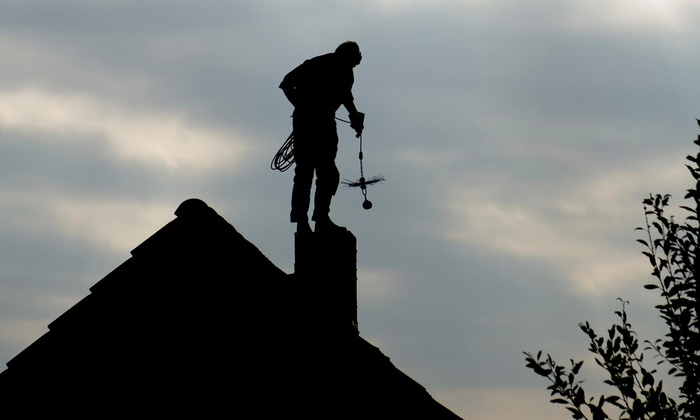 "Great company, amazing service. They came on time, and let me know 30 minutes before they got there."

"Fantastic company. They came out to fix a leak in my chimney and didn't charge me until after the storms passed and I knew it was held. Awesome work, thanks Sootaway"

"Sootaway did a fantastic job on my chimney! They came out, swept my chimney, and managed to keep my white carpets clean while they did it!"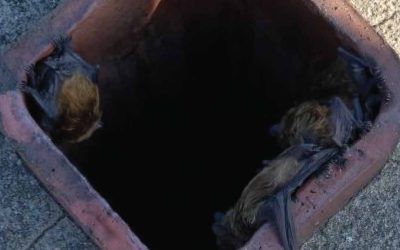 As the warm weather arrives and nature springs back to life, it's important to be aware of the potential risks posed by animals entering your chimney. Every year, numerous critters seek refuge in chimneys across the United States, causing damage and posing potential...